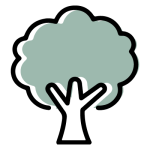 Secondary School
Secondary School: 7th form – Basic Cycle and Oriented Cycle:
Monday, Tuesday, Wednesday and Thursday from 7:55 am. to 4:30 pm.
Friday: from 7:55 am. to 2:30 pm.
The doors of the secondary school open at 7:40 am.
Preparation for further higher education
Training for work.
The student's acquisition of knowledge in various areas while also learning to act independently.
Formation of an empathetic, responsible and committed citizen.
Development of social and intellectual skills.
What does the world require?
In addition to the three types of knowledge, the world today demands individuals who:
Reasonably think with evidence

Consider different viewpoints and perspectives

Ask questions

Build up explanations and formulate hypotheses

Evaluate evidence

Generate possibilities

Respect, value and enrich themselves from the contributions of others

Develop a collaborative spirit
The world needs patient and tolerant beings, intuitive, compassionate, empathetic, capable of resolving conflicts, with civic awareness and values.
Our goal is to have students develop intellectual, moral and social autonomy.